SnoopSoft Charms v2.1 (Beta)
All Products are built for Windows Mobile Professional (and Pocket PC Phone) devices (not compatible with SmartPhone)
Built for Pocket PC 2003 and higher devices (including WM5 and WM6)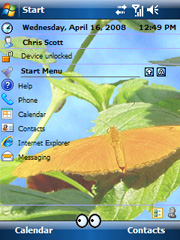 Liven up your device with SnoopSoft Charms! Much the same way charm jewelry is used, SnoopSoft Charms can be used to personalize your device. Bring your device to life with eyes that move and look around your screen! Personalize your device with unique charms that have special meaning to you. SnoopSoft Charms uses non-rectangular windowing technology to allow the charms to sit on your screen, available at all times, without interfering with anything else on the device.
SnoopSoft Charms is only available through our current donation effort.


More charms are available for download from our Charms Download page.
Features and Functionality

This is a very compact and simple application that is meant to be fun. Any charm added to the bar can perform one of three unique tasks (even the eyes) when tapped:

Launch a Web Page
Run a Program
Show the Options dialog
SnoopSoft Charms sit along the bar at the bottom of the screen. As long as the charms are not too tall it never interferes with other applications. It's also fully extendable. Create your own charms or eyes to use on your own device or share with your friends. The program itself installs with several that we've created as well as some that we've found licensed for public use on the Internet.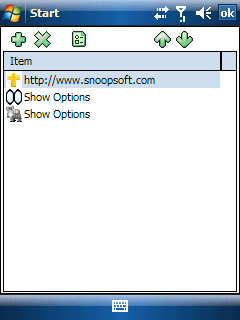 Program Options are designed to be as simple and straightforward as possible. You can get to them by configuring a Charm to launch the Options page or by tapping and holding on any Charm to bring up a menu.
The main Options page allows for the adding, deleting or modifying of the Charms. This is also where the order that they appear on the screen is setup.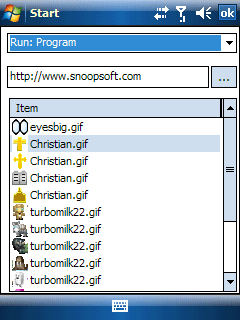 Adding a charm or selecting an existing charm and tapping the edit button will bring up the second options screen above. This screen allows for specifying the action that will be taken when the charm is tapped, the program or website to launch and the icon that will be used for the charm (selected from the list at the bottom).
Extendable
Charms
Create your own charms by building them into a bitmap or gif file. Multiple charms can be contained in one file but eyes need to be in their own file (see next section). When placing multiple charms into a file be sure that they are all the same width/height or the program won't pick up on it. For instance, if putting ten 22x22 charms into a single image file the image size would actually be 220w x 22h. You can almost use one file for both VGA and non-VGA devices if you size the charms to about 20x20 pixels. You can get away with a 22x22 set if needed, however this is a little large for non-VGA devices. If you want to target multiple files to the different device resolutions you can go with 20x20 for non-VGA and 32x32 for VGA.
Always use a background color of RGB 128, 0, 128 (Purple) for areas that need to be drawn transparent. We're currently working on getting native image transparency to function with the program but weren't there for this initial version.
Charms can be created and released as sets such as 'sports', 'weather', 'schools', 'animals', etc. Not many exist now but use your imagination and create your own! We will create some as we have time but the best work always comes from the user community!
Eyes
Only one pair of eyes can be in a single image file but they can be any width (as long as it's not evenly divisible by the height). Eyes also require a second file named the exact same as the image with a .eye extension (see the default eyes for an example). The .eye file is just a text file with 2 lines containing the following:
left, top, right, bottom coordinates for left eye on first line
left, top, right, bottom coordinates for left eye on second line

Applets
SnoopSoft Charms comes prebuilt with hooks for other applications to use. Developers can write standard applications in any language that can integrate easily with SnoopSoft Charms.

Whenever a charm is tapped on the screen, the program records the x and y position of the tap so that the launched application can use that information to display popup windows in the correct location.

External programs can also update their individual charms by setting the 'reload' flag in the registry. This will cause the main program to reprocess the data in the registry and update the display.
Examples might be a stock ticker or weather balloon notification or even your next appointment or task. The goal would be to free up your Today page for other things and/or make some of this information more accessible without having to keep going back to the Today page.