SnoopSoft ColourMe Page
ColourMe v2 - Windows Colour Scheme Manager

ColourMe works with Pocket PC, 2002, 2003 and 2003SE
The images above depict ColourMe running on Windows 2000 (left) and the PocketPC beta version running on an iPaq (right).
Downloads
! Important !
Please read through these notes in their entirety. Changing the colour scheme of Windows and Windows CE isn't as easy or harmless as it might appear to be.
Improper use of this program can cause your system to become unusable.
Please make sure you read the notes below!!
Please be sure to backup your device before running this software!
Features of ColourMe v2.0
New! Faster, "flat" UI reduces strain on system resources!
Ability to change all colours - even those Microsoft won't allow!
Export any Colour Scheme from ColourMe
Import Colour Schemes into another device (share your favourite schemes with others)!
ColourMe works with devices running Windows CE 2.11 and higher as well as Windows 95/98/NT/2000
ColourMe is being distributed as GuiltWare for $5.00
Registration
ColourMe is being distributed as GuiltWare. It is a fully functional program with no annoying registration codes or expiration dates. Many hours of hard work went into creating this program for your use and many more will be put into future enhancements and bug fixes.
Simply put, if you find the product useful and continue using it for an extended period of time, then we would hope that you would feel obligated to send some small token of your appreciation for the time and effort that went into writing and distributing this software.
The cost is a one time $5.00 fee (in US funds). For your convenience, SnoopSoft has setup an Online Registration Center which accepts all major credit cards. Your registration fee covers all versions of ColourMe and is valid for the lifetime of the product (i.e. new versions are available to registered users for free). SnoopSoft has decided to charge a nominal fee for ColourMe in an effort to offset some of the costs of maintaining this website.
Those people who register will be rewarded with timely bug acknowledgements and fixes. They will also be entered into a database and sent automatic notification of new versions. Registered users will also get preferential consideration with respect to enhancements, modifications and features.
In addition, SnoopSoft will make available to all Registered users a version of ColourMe that has no splash dialog on startup and we will also throw in the "CE Extras.clr" Colour Scheme import file.
The CE Extras.clr import file contains the following Schemes:
| | | |
| --- | --- | --- |
| | | |
| Palm Scheme | Pocket PC Scheme | Snoop Scheme |
Faster Flat UI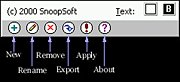 SnoopSoft brings a first to Windows by porting the PocketPC flat-style interface to Windows CE 2.11 as well Windows 9x/NT/2000! Cynics scoff at the retro-look and feel of the PocketPC UI, but SnoopSoft understands that the time and effort necessary to draw all that "fluffy" 3D stuff is much better used for more practical applications. Therefore, the new ColourMe v2.0 comes standard with the flat, PocketPC style, UI -- even on Windows 9x/NT/2000! As a special bonus to our Windows 9x/NT/2000 users, ColourMe uses the default PsPC screen resolution of 240x320 in order to gain even more speed by not having to draw all over the screen!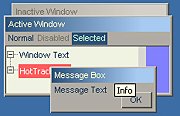 Change all Colours
ColourMe v2.0 allows you to change all colours on your system, whether Windows exposes them to you or not. For instance, did you know that the Grey Text colour is also used for the Tree Control lines and boxes? Microsoft doesn't allow this colour to be changed anymore since they introduced the Win9x 3D look and feel of Menus, and the Grey text was no longer used. But there are still other controls that use the Grey Text colour, such as disabled combo boxes and the lines and boxes in tree controls!
The Hot Tracking colour is also user-modifiable in ColourMe, but not in Windows! Even Microsoft's default schemes that ship with Windows 2000 use different Hot Tracking colours, yet you're not allowed to change it... until now.
Caution: Here's what doesn't work:
Win95 and WinNT don't support the message box background colour (they always use the default 3D face colour)
Win95 and WinNT don't support the Hot Tracking colour or the Gradient Title Bar Colours
WinCE uses the Hot Tracking colour for the message box text (don't ask me why).
WinCE doesn't use the Desktop colour
Many WinCE applications still do not support user-defined colours and instead hard-code their colours based on the CE default colour scheme.
Export any Colour Scheme
ColourMe allows you to export any Colour Scheme from your PC/CE device and store it into a file that can be copied to another PC/CE device.
Import Colour Schemes
ColourMe can import Colour Schemes from Windows or from Schemes stored in a file that were exported from another device. Tap on the 'New' button to begin the import process.
This is a great feature for people with multiple PC's! Finally, you can use the same Colour Scheme on your work PC, laptop, home PC or Windows CE device!! Share your best Colour Schemes with your friends. Post them on the Internet for others to use. Got a great outdoor scheme for your Casio device? Share it with the world!
To import a Colour Scheme file (*.clr), just copy the file(s) into the same folder as the ColourMe program file (ColourMe.exe). When the Import option is selected, ColourMe scans this folder and lists all .clr files that it finds.
Further Reading
If you're running ColourMe under Windows CE, any type of colour anomolies you see after resetting your device are directly caused by improper programming on the part of the company that wrote the software. ColourMe CE merely brings these flaws to light by allowing you to change the defaults under which many of these programs were hard-coded to expect. ColourMe CE is not responsible for these display effects. Please contact the software company and request a properly coded version of their product.