Themes
SnoopSoft Dashboard is a Today page module for your PocketPC that provides an integrated view to your Agenda, Email, Tasks and Program Launcher and is completely customizable via SnoopSoft Dashboard 'Skins' or Themes that can be downloaded from various sites around the Internet.
How Do I Install A Theme
Click on the File: link to download the theme ZIP to your PC.
Unzip the theme file on your PC. As of Dashboard v3, all the contents of the Theme are consolidated into one file - a .THM file.
Copy the Theme file (.THM) to your device via the ActiveSync 'Explore' option.
It needs to go into the folder:
/Program Files/Dashboard3/Themes/
-OR-
your user-defined themes folder

Where Can I Get Themes?
For some great themes for SnoopSoft Dashboard? Look no further than our Theme library on WinCustomize!

Dashboard v3 is not backwards compatible with Dashboard v2 Themes but if you see something you really like and want to use in v3 then let us know and we'll get it converted!

How Can I Create A Theme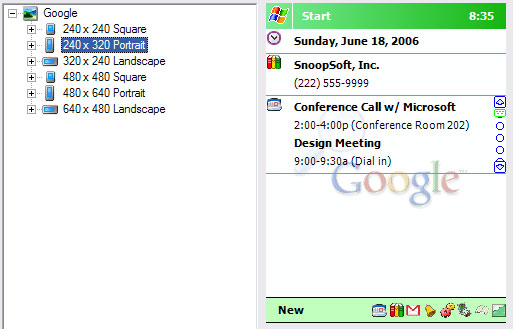 If you would like to start developing Themes for SnoopSoft Dashboard v3, we've tried to make it as simple as possible. New for v3 is our SnoopTheme Creator Tool. Use this tool to easily import Today Theme files or any images that you may want to use for your background. Then define the colors you like and create your theme! The tool will show you what your theme will look like on all available device screen sizes.
Downloads
Download the SnoopTheme Creator Manual (.PDF)

Download the SnoopTheme Creator Program and sample theme (655KB)